Mobeye Argos GSM alarm system

The Mobeye Argos GSM alarm system monitors your property wherever you are. A matter of depositing and enabling with your user code. Never before was security so easy. Works on batteries for a long time, gives a silent or loud alarm and reports a burglary and temperature alarm to the telephone numbers (max. 5).

Complete all-in-one GSM alarm system. Offers a lot of extra functionality in addition to all functions of the Mobeye i110. Works long-term on batteries (at least 1 year) or on external voltage. Reports alarm messages to (max.) 5 telephone numbers and let the receiver listen in with the sounds around the alarm system. Provides the possibility for additional sensors and control of devices with two additional inputs and outputs. Can perform actions on time or be operated remotely and much more!

The Mobeye Argos is ideal if you do not have a power supply. The built-in GSM module, movement detector and temperature sensor protect every place against harm. In the holiday home or in the boat, for temporary security in construction or at home. The all-in-one alarm system can be used anywhere immediately. Without installation work or complicated programming.
The Mobeye Argos offers the user the option of a silent or a loud alarm as soon as intruders are detected. A silent alarm increases the chance of being caught, a loud alarm will drive the inmates away earlier. In addition, the Mobeye Argos sends an SMS message and a telephone call to the self-adjustable telephone numbers. This way you do not have to miss a notification.
The Mobeye is not just a burglar alarm. A temperature sensor is also installed. You set a lower and / or upper limit. When crossing the border you will immediately receive a warning. Direct protection against freezing danger, or overheating.
The batteries have a long life. With a daily test report, the batteries last for more than a year. This is longer with a lower frequency or without a test message. As soon as the batteries have to be replaced, you will receive a 'battery low' SMS.
The Mobeye has a number of simple setting options. This way you can have your own identification text included in the SMS text. The entry delay and the sensor sensitivity are adjustable. The siren can be switched on or off, as well as the signal during the entry delay. And to determine the correct provider for your SIM card, you can receive the strength of all available GSM providers in the area by SMS. This allows you to make a correct choice of the SIM card in your device.
This is how easy it is to secure!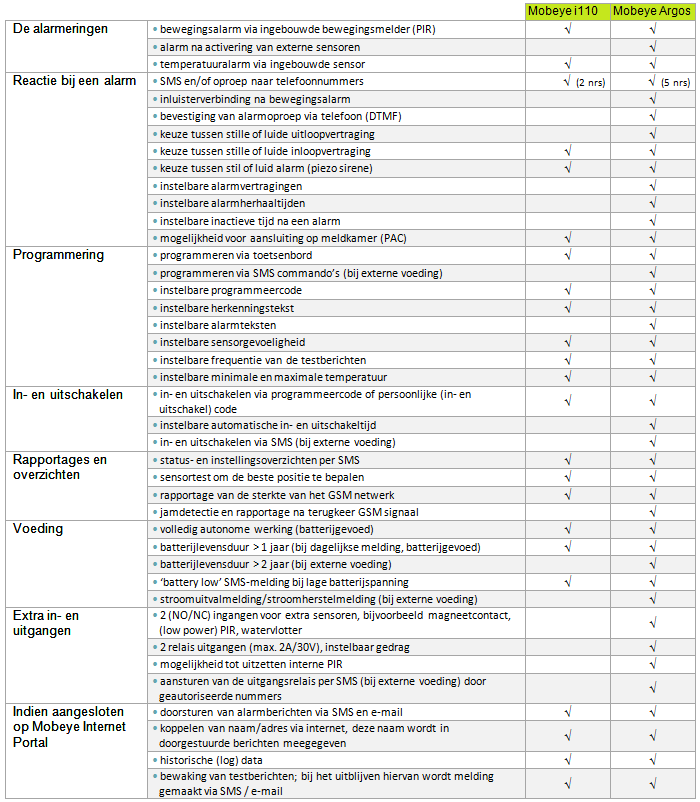 Click here for a brochure

click here for the manual.