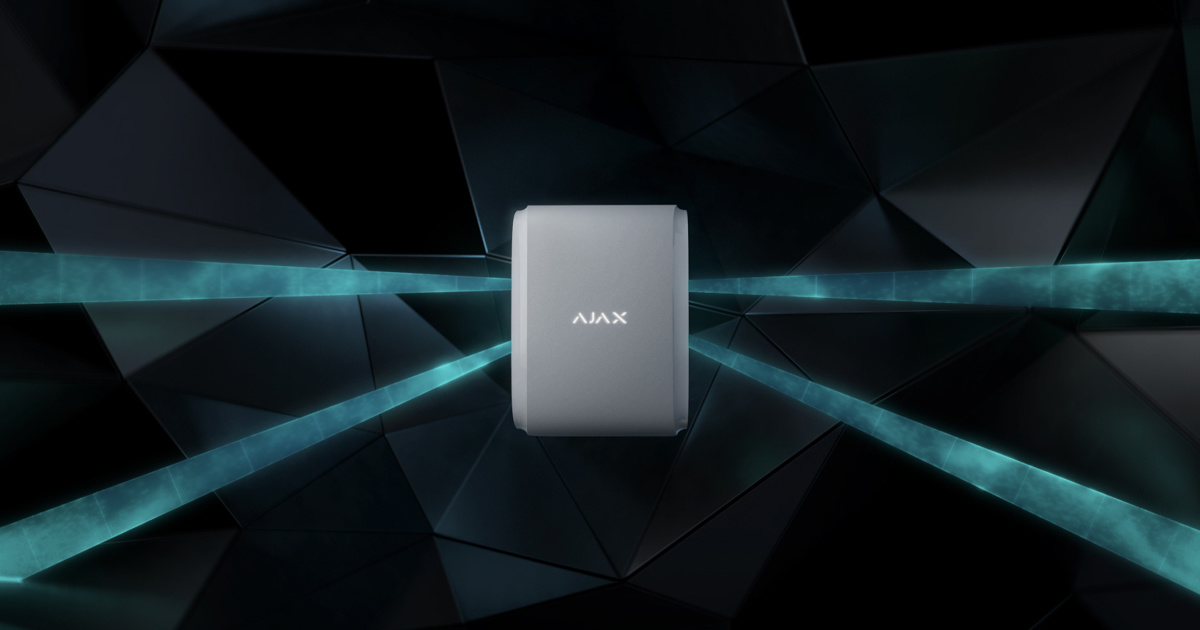 DualCurtain Outdoor: specialistische kennis over buitenbewaking
De reeks straatdetectoren van Ajax omvat nu ook een bidirectionele gordijnbewegingsdetector die tot 30 meter van het eigendom kan bewaken, zodat de toegang tot ramen, deuren, bogen, hekken en etalages efficiënt wordt beschermd.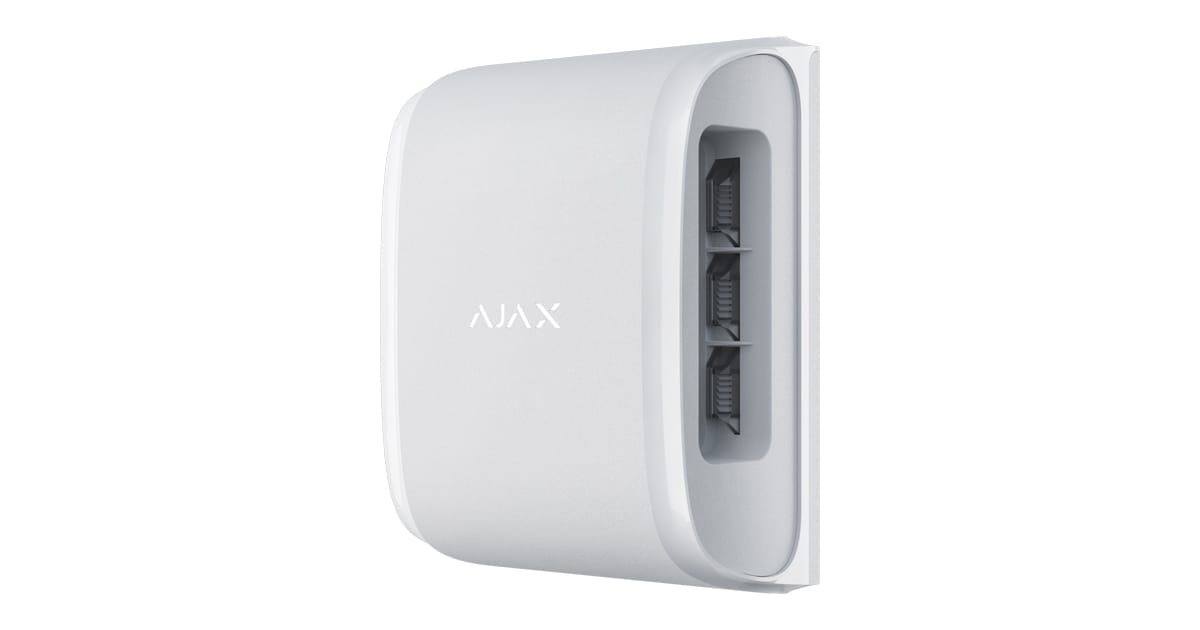 In het afgelopen jaar hebben wij onze expertise in techniek versterkt zodat we meer kunnen inzetten op buitenbeveiliging, het meest complexe gebied voor fabrikanten van beveiligingsapparatuur. Buitendetectoren vormen vaak een probleem voor professionals. Natuurlijke verstoringen, hitte, regen en sneeuw veroorzaken veel valse alarmen. Wij begonnen te werken aan een bewegingsdetector voor buiten met een smalle kijkhoek en konden dit waarmaken dankzij onze ervaring in de ontwikkeling van onze eigen optische systemen en softwarefilters voor valse alarmen.
En we hebben iets speciaals gemaakt. DualCurtain Outdoor combineert gepatenteerde lenssystemen, een nieuw digitaal algoritme om valse alarmen tegen te gaan, gebaseerd op miljoenen triggers, een optie voor bewegingsdetectie in een nabije omgeving en zeer flexibele instellingen. Dit alles werkt jarenlang op batterijen.
Twee detectoren in één behuizing
Elk DualCurtain Outdoor-element belichaamt het idee van technische precisie. Vloeiende lijnen, diepliggende lenzen en maskerende sensoren vormen een gestroomlijnde regenbestendige behuizing. Met het SmartBracket-montagepaneel kunt u de detector eenvoudig en veilig aan het oppervlak bevestigen, terwijl u het montagepaneel sluit.
De zijkanten van de detector worden onafhankelijk van elkaar ingesteld. Met de bediening op het achterpaneel kunt u de volgende dingen bepalen: de detectieafstand voor elke zijde, de detectieactivering in de omgeving van een detector en de verticale verschuiving van de kijksector met 3° zodat delen die uit de gevel steken het zicht van de detector niet belemmeren.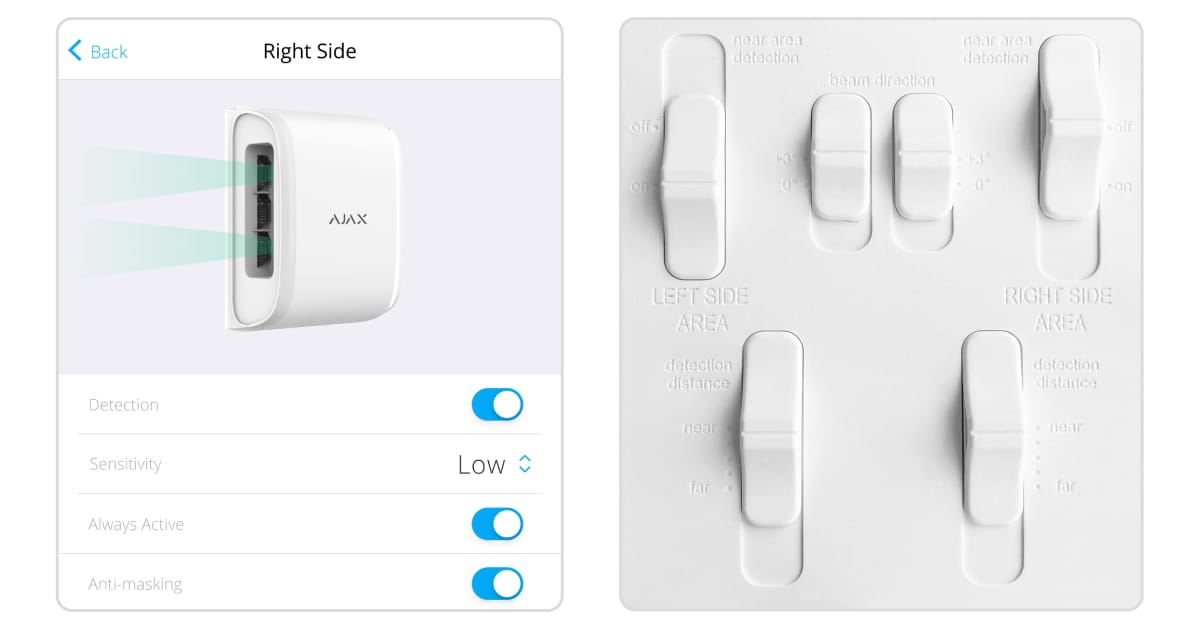 In de Ajax-app kan elke kant van de detector afzonderlijk worden bediend. Zo kunt u IR- of maskeersensoren in-/uitschakelen, permanent actief maken ongeacht de inschakelmodus en de gevoeligheid aanpassen. Met de app kunt u de interactie met de detector flexibel aanpassen. Zo kunt u in-/uitgangsvertragingen instellen, de activering van de sirene aan een bepaalde kant koppelen of een automatiseringsscenario voor een detectoralarm creëren.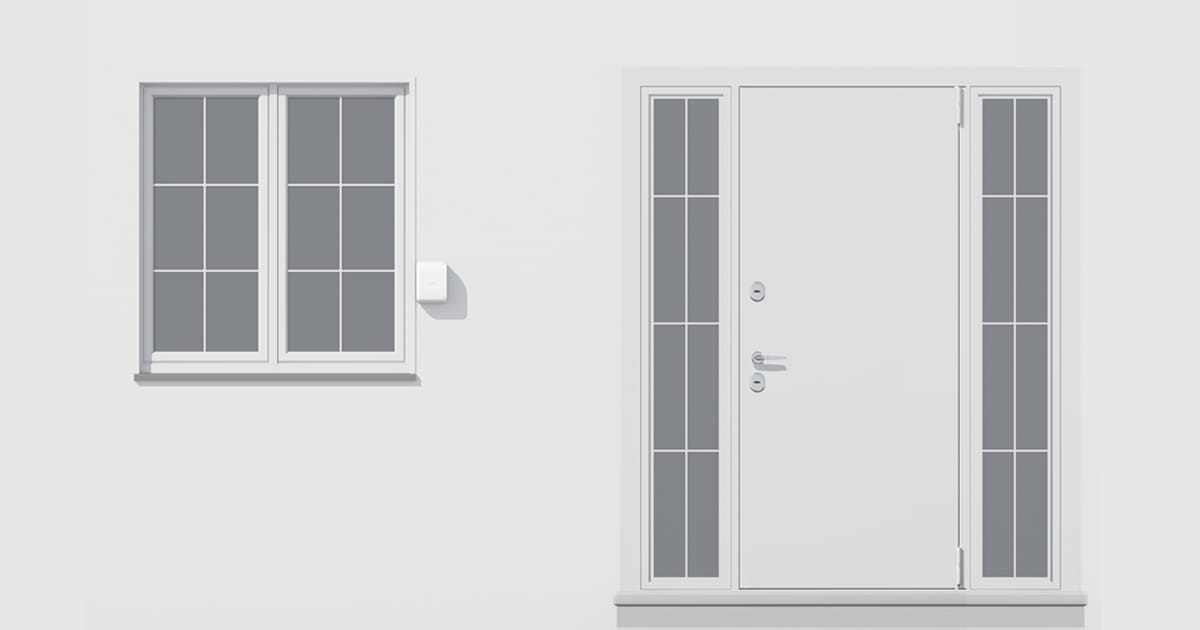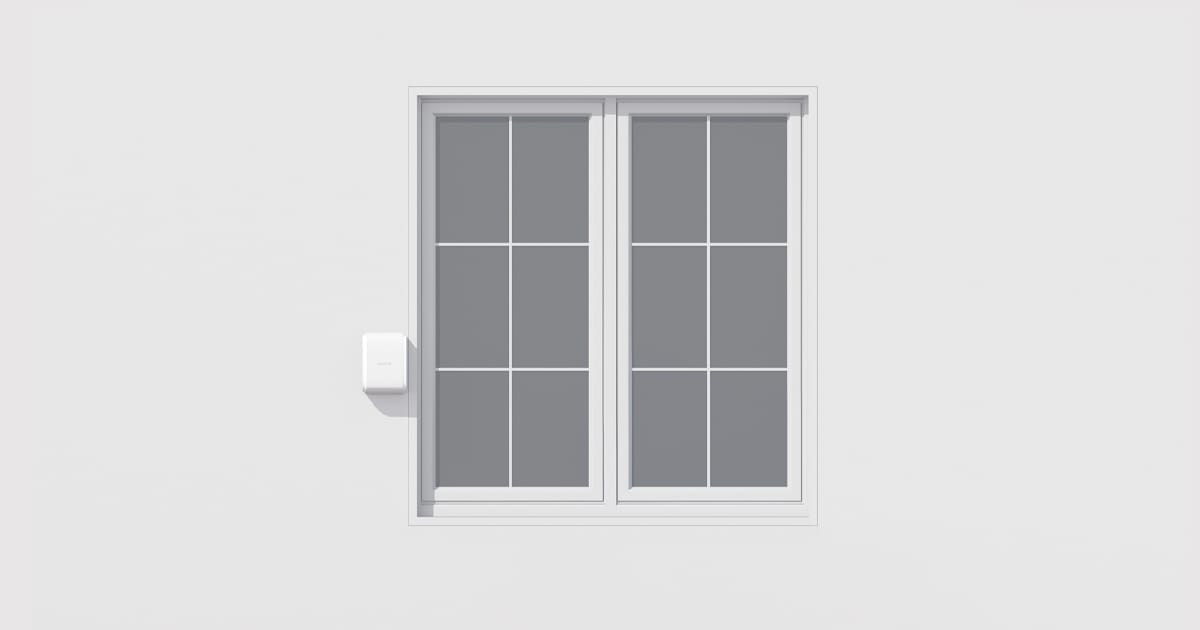 DualCurtain Outdoor beschermt de meest afgelegen gebieden dankzij een verbindingsbereik tot 1.700 meter vanaf de hub. En op complexe locaties kunnen ReX-signaalversterkers helpen om een robuuste buitenbeveiliging op te bouwen, ongeacht de schaal.
Dubbele filtering tegen valse alarmen
Met twee IR-sensoren aan elke kant, werkt DualCurtain Outdoor effectief tegen valse alarmen. De detector reageert niet als slechts één sensor beweging heeft waargenomen. Wanneer beide sensoren worden geactiveerd, activeert de detector het speciale digitale algoritme ELSA. In een fractie van een seconde voert ELSA een signaalanalyse in drie stappen uit. Natuurlijke storingen en dieren worden uitgefilterd en ELSA bepaalt of er al dan niet alarm moet worden geslagen.