DS-K1T201EF-C standalone card reader with camera, EM, fingerprint reader
The DS-K1T201EF-C is a card reader with built-in camera and touch buttons from the access control line of Hikvision. The card reader can be connected via RS-485 or Wiegand. The camera image can be recorded (also on motion) as a separate stream in all Hikvision recorders with an IP position available. In addition, the camera can be used to enforce a face detection when granting access.

The beautifully designed card reader can only be used indoors. The card reader can read EM cards and be connected to Hikvision's Basic + and Pro Complete door controllers.

EM vs MiFare
Hikvision supplies card readers with the possibility to read EM or MiFare. This choice is in the reader and can not be adjusted software-wise. MiFare has a heavier encryption. If other EM solutions are already present, EM can also be selected.

RS-485 vs Wiegand
Hikvision card readers such as the DS-K1104M are equipped with connection options for both Wiegand and RS-485.

RS-485 has the advantage that fewer veins are needed (4). Another major advantage of RS-485 is that the reader supports two-way communication with the door controller. RS-485 can also be operated in a bus form (series) instead of star topology (parallel). With RS-485, however, it is necessary for this reason to give readers the corresponding address via dipswitches. The sequence influences the setting options and therefore requires attention when making the setting. Readers who are seen as ingress are numbered oddly, readers used when entering the secure zone are numbered as even.

Wiegand has the potential disadvantage that more wires (7) are needed to realize the correct connection. After this, however, no more programming is required in the reader and everything can be set via the software.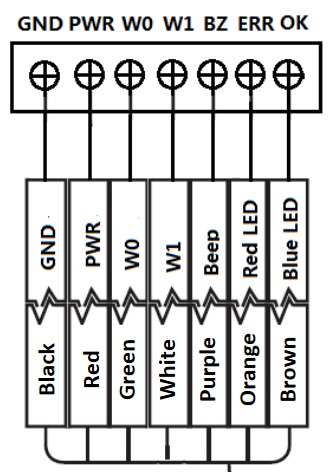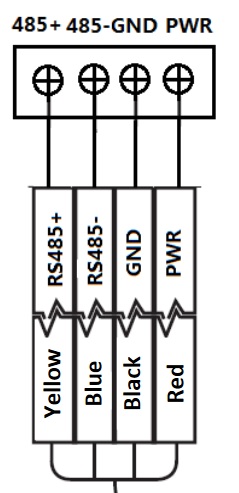 Wiegand connection - RS-485 connection.
Specifications:

- 32-bit high-speed processor
- Reading distance 3-5cm
- Built-in audio indicator
- Led status indicator
- RS485 and Wiegand (W26 / W34) protocol;
- Tamper alarm;
- Online upgrade function (if connected via 485)
- EM recognition and reading of cards
- Fingerprint reader
- Info display