Hikvision IP 3x dome 4 megapixel camera surveillance set wireless
Do you put the video settings at '' HD "at the cogwheel?
The Hikvision IP kit 3x dome HD camera surveillance set contains 3 IP cameras, which are suitable for outdoor use. The cameras are HD image quality with Infra red LEDs for a perfect view in darkness. This HD IP camera set delivers sharp image quality.
Wireless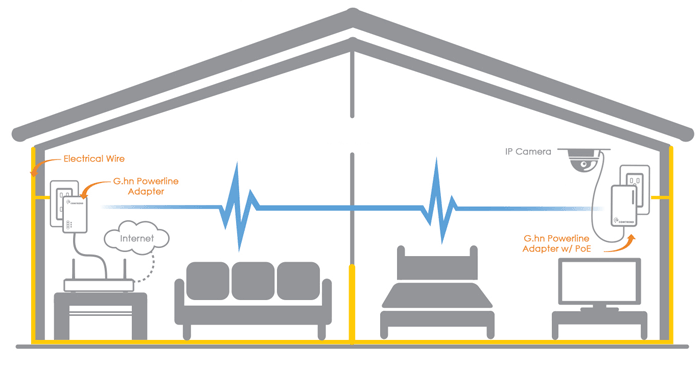 You can save the images for several weeks with the built-in hard disk (top select) hard disk before overwriting oldest ones automatically.
The HD recorder is equipped with an HDMI / VGA output and can also display live or recorded images directly via the user-friendly user program without the intervention of a PC. You can easily record based on movement or alarm. Retrieving is extremely simple based on a timeline in which movements are recorded.
The recorder can operate stand-alone with an optional monitor. It is also possible to connect this NVR to the network or internet router via the LAN port so that you can view the images with a PC or Laptop / Smartphone.
With the built-in IR LEDs you have a perfect picture both during the day and at night. The camera is vandalism proof. Optional is a wall mount for the dome camera.

The Hikvision DS-2CD2142FWD-I dome camera 4 megapixel is the

new generation domes from the 2-line and equipped with a new hardware platform. This allows a higher light output to be realized, which ensures a better image in your recording.
The camera is also equipped with True WDR of 120dB. This technique ensures that you keep a good picture under challenging lighting conditions! Think of situations like headlights in the picture or direct sunlight. The camera can handle this with its double shutter.
The kit includes:
1 x HD recorder DS-7604NI-K1 HD Plug & Play NVR
2 x 4 Megapixel DS-2CD2142FWD-I 2.8mm network dome cameras for indoor and outdoor
1 x Smartphone App software
1 x PC software
2 x 5m CAT5 camera connection cables
1 x LAN network cable
1 x USB mouse
1 x HDMI cable for monitor, 1.5 mtr
3 x Powerline adapter with poe (camera)
1 x Powerline without a poe (router)
These security camera sets provide excellent image quality.
Do you doubt? Call us then we convince you with our online demo; 0183-513 700
Of course there are many more possibilities, your wish is not there, call or email us, we will make a competitive quote for you!

Do you need help?
Obviously we have telephone support with highly experienced technicians in the field of camera surveillance. This set includes 1 hour of help. Of course we will call you back so you are not with high telephone costs!
Click here
for the
Brochure HD recorder
(pdf)
Click here
for the
Brochure dome camera
(pdf)