Hikvision DS-2CD2755FWD-IZS 5MP, 2.8 ~ 12mm motor zoom, 30m IR, WDR
These cameras are equipped with all the possibilities and options that Hikvision has to offer!
One of the most striking novelties is the connection of the cables directly into the dome.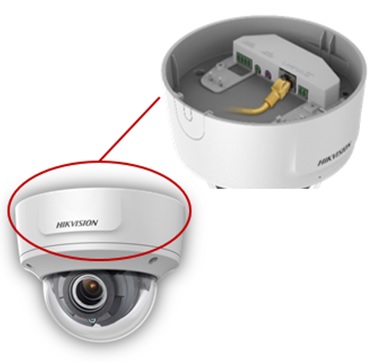 All cameras in the Easy IP 3.0 Line have an SD card slot, True WDR and EXIR. They are also provided with a number of detection options, namely:
- Line crossing detection
- Intrusion detection
- Unattended baggage detection
- Object removal detection

The camera has an IK rating in terms of vandal resistance and an IP67 watertight rating.
All Easy IP 3.0 Line varifocal cameras are also equipped with a motor zoom lens as standard.


The new generation domes from the 2-line is equipped with a new hardware platform. This allows a higher light output to be realized, which ensures a better image in your recording.

The camera is also equipped with True WDR of 120dB. This technique ensures that you keep a good picture under challenging lighting conditions! Think of situations like headlights in the picture or direct sunlight. The camera can handle this with its double shutter.


The camera is vandal proof and has an IP67 rating (can be used outside). A viewing angle of 98 ° - 30.5 ° can be adjusted with the help of the adjustable lens. This camera is equipped with a built-in micro SD card slot up to 128Gb. For example, this camera can be recorded on the basis of motion and stored on an SD card.

This camera is ideal to combine with a PoE Network Video Recorder . If you use the Power over Ethernet function, you do not have to supply a power point with the camera. If you do not use the PoE, you can use an optional power adapter or PoE injector (see accessories).
The combination of these qualities makes this camera ideal for any job!


• 1 / 2.8 "Progressive Scan CMOS
• 1920 × 1080 resolution
• 2.8 to 12 mm focal length
• H.265, H.265 +, H.264 +, H.264
• 120dB Wide Dynamic Range
• BLC / 3D DNR / ROI
• IP67, IK10