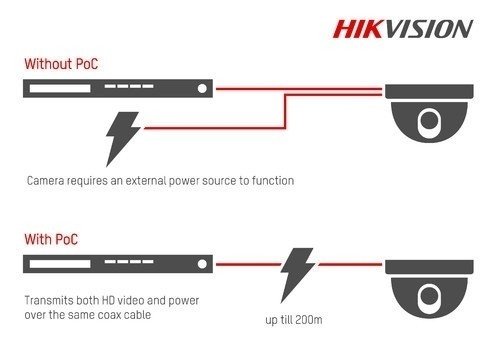 Nieuwe Turbo HD camera's en recorder met Power over Coax!! (PoC)
De nieuwe Power over Coax (PoC) techniek van Hikvision brengt een nieuwe doorbraak in de techniek!

Over een analoge coax kabel kunt u nu tot 5MP beeld verzenden én voeding! Er is dus maar 1 kabel nodig van de recorder naar de camera!
De Hikvision PoC recorders en camera's vormen zo een ideaal plug en play systeem, onder andere voor de vervangingsmarkt waar vaak al coax bekabeling aanwezig is!

De PoC recoders voeden die camera direct vanuit de coax-aansluiting. Er is dus geen aparte voedingskast nodig. De recorder herkent zelf of de camera via Power over Coax (PoC) gevoed kan worden of niet. Daarnaast kunt u vanuit het netwerk ook een IP camera toevoegen!
De recorder kan naast HD-TVI ook HD-CVI, AHD en ongecomprimeerde coaxsignalen (CVBS). De coax ingang herkent zelf het signaal. Verder kunt u de standaard Turbo HD mixen met de PoC Turbo HD camera's op een normale recorder en de PoC recorder. Ook is deze range nu uitgebreid met 5Mp camera's en Low Light modellen in de 2 en 5Mp series. 

Alle modellen in de Black Label line zijn voorzien van EXIR en een OSD menu.
Dankzij het OSD menu kunt u de megapixel (MP) waarde aanpassen om de camera ook geschikt te maken voor oudere recorders.
U kunt deze camera's HIER vinden.