JA-110T
Service explanation JA-110T
BUS short circuit isolation module
This product is part of the JABLOTRON JA-100 alarm system. It serves for better protection of bus cable lines indoors. It separates the outdoor portion of the BUS line from the line inside the house. If the outdoor unit is damaged (e.g. an intruder short circuits the cable), the branch of the indoor system remains functional.
The use of the isolator is mainly recommended in cases where the bus cable is routed outside the area to be monitored. Separate floors (or wings) in the house can also be separated using the insulator.
The insulator can also be used to extend the cable, the signal transmission is improved with a long cable. The module is intended for installation by a trained technician with a valid Jablotron certificate.
Installation
The module can be installed in a JA-190PL (Jablotron) mounting box, in the cabinet of the control panel and/or in a standard el. installation box. Always best inside the area to be monitored.
Any number of isolators can be installed in the system. However, it can only be used for the branches of the inner line of the BUS. No insulators may be connected one behind the other.
Before connecting the BUS, the system must be disconnected from the power supply.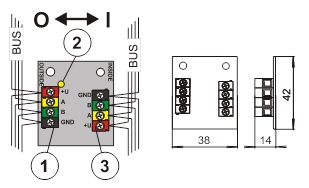 Figure: 1 – terminals of the BUS outer branch (O); 2 – indication of the BUS outer branch fault; 3 – terminals of the BUS inner branch (I from the control panel)
After connecting cables and switching on the system, the isolator is functional. It does not need to be classified in the system (it does not occupy a position).
Function
The isolator interrupts the output bus line (O) for 5 sec in the following cases:
1. The current to be drawn from the isolator exceeds 250mA (terminals +U and GND on the OUTSIDE side)
2. The voltage on the BUS supply drops below 9 V (terminals +U and GND on the INSIDE side)
If the high draw or the dropped voltage is permanent, the output bus (O) remains permanently open, possibly the voltage can operate in cycles of 5 sec. When the output bus is interrupted, the yellow signal light (2) will light up permanently.
When a wired peripheral is to be connected at a great distance and the signal quality improvement module is applied, it must be ensured that there is sufficient voltage on the bus supply (by using a properly dimensioned cable) so that in the event of a drop in the input voltage is below 9 V the output side (O) of the bus is not interrupted.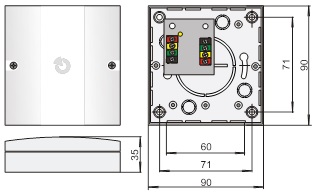 Image: example of installation in a JA-190PL box.
Technical parameters
Power supply from the control panel BUS 12 V (9…15 V)
Current consumption at stand-by (rest) 5 mA
Current consumption for choice of cable 5 mA
Permissible load of external line BUS max. 250 mA
Classification grade 2
according to EN 50131-1, EN 50131-3,
Environment according to EN 50131-1 II. inside, general
Operating temperature range -10 to +40 °C
Further complies with EN 50130-4, EN 55022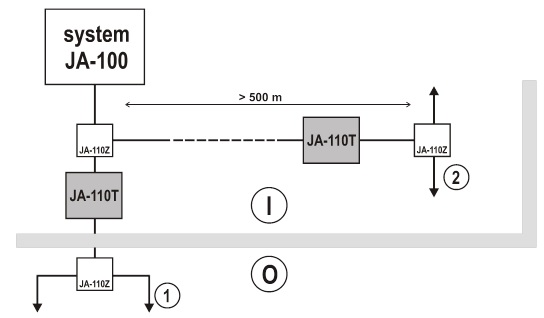 Image: (I) interior (protected) space; (O) outdoor (unprotected) space;
(1) separation of the outer branch of the BUS; (2) extension of the BUS longer than 500 m (see Function)