JA-111H
Service explanation for JA-111H
BUS connection module for detector
This module can be connected to the JABLOTRON JA-100 control panel. It is installed in any classic detector (with contact outputs) and supplies it with power. The module responds to the condition (it reports activation of an alarm). The product is intended for assembly by a trained technician with a valid Jablotron certificate.
Installation
1. Place the module in a suitable place in the detector.
2. Connect the supplies to the detector (according to the picture) - leads cannot be extended.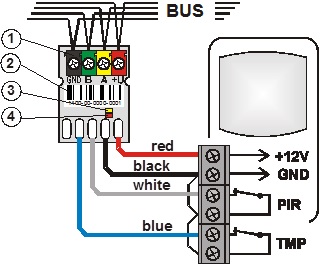 Figure: 1 – bus terminals; 2 – serial number; 3 – yellow fault indicator light; 4 – red signal light indicates by flashing once the activation of the alarm or tamper input;
guide wire detector designation function
red red + 12 V power supply from detector
black black GND joint wire
white white INP input of alarm
blue blue TMP tamper input
3. Connect the bus cable.
Before connecting the BUS, the system must be disconnected from the power supply.
Current draw from a connected detector must not exceed 50mA (output of the power supply from the module is not protected against overload.
4. Follow the installation manual of the control panel. Basic Steps:
a. After power up, the yellow indicator light flashes because the module is not enrolled in the system.
b. Select the desired position in the F-Link program on the Peripherals card and start the learning mode with the Read button.
c. Press the tamper switch in the detector (or momentarily connect the blue and black leads of the module) - this will teach the module and the yellow light will go out.
5. Close the cover of the detector with module.
Set module properties
This is done by the F-Link program – Card Peripherals. Select Internal settings at the position of the detector. A dialog appears, in which you can set:
Signal input:
Off / On – INP input can be turned off completely.
Delay of response to INP input:
a time filter to increase immunity against false alarms – setting of 0.1s ... 300s determines how long the INP input must be active in order to activate it in the control panel.
Reverse response of the INP input:
it is factory set as contact breaking (NC), can be changed to making contact (NO).
Reverse response of the TMP: it is factory set as contact breaking (NC), can be changed to making contact (NO).
LED indication on
: the red signal light of the activation can be turned off.
The manufacturer guarantees the correct operation of the module only. However, it cannot guarantee the correct operation of the connected detector. Therefore, the use of Jablotron JA-100 wired detectors is recommended.
Technical parameters
Power supply from the BUS of the control panel 12 V (9 … 15 V)
Standby (rest) current consumption* 5 mA
Power consumption for choice of cable* 5 mA
max. permitted load by connected detector 50 mA
Dimensions 22 x 27 x 14mm
Classification grade 2
in accordance with CSN EN 50131-1, CSN EN 50131-3
Environment in accordance with CSN EN 50131-1 II. inside, general
Operating temperature range -10 to +40 °C
Further complies with CSN EN 50130-4, CSN EN 55022
* the consumption of the connected detector must be added