JA-111I
Service explanation for JA-111I
BUS LED indicator RGB
This product is part of the JABLOTRON JA-100 alarm system. It serves for optical indication of the status. The color of the indication is optional through the connection, for example the indicator can indicate the controlled output in two colors (red / green). The product is intended for installation by a trained technician with a valid Jablotron certificate.

Installation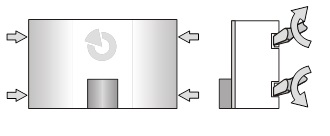 1. Open the indicator cover by loosening the four snap clips using a suitable flat screwdriver, turning in the direction of the arrows.
2. Loosen the click clamp (1) and remove the plate.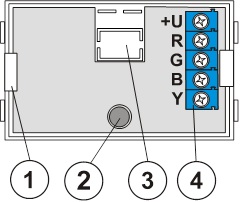 Picture: 1 – click clamp of the plate; 2 – indicator signal light; 3 – hole to break open for cable entry; 4 – connection terminals
3. Pull the supply cable through the opening made (3) and fix the back wall of the indicator in the chosen location.
4. Snap the indicator plate back in.
5. Connect the cable to the terminals (4) according to the chosen color for indication by means of a signal light (2), see table:
+U voltage supply of 12 V
R red red light, if closed to GND
G green green light, if closed to GND
B blue blue light when closed to GND
Y yelow yellow light, if closed to GND
6. Test the operation after powering up the system.
7. Replace the indicator cover.
Function
The indicator is designed for indoor indication, also outside the monitored area. If installed outside the monitored area, the voltage applied to +U terminal (if tapped from the BUS of the system) must be protected against short circuit, e.g. with a JA-110T module of the bus isolator.

Image: Example of the connection for a two-color indication of the status of the PG output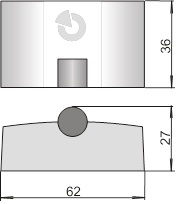 Image: dimensions of a JA-111I indicator.
Technical parameters
Power supply 12 V (9 ...15 V)
Standby power consumption (LED on / off) 5 mA / 0 mA
Current consumption for choice of cable 5 mA
Dimensions 62 x 36 x 27mm
Environment according to EN 50131-1 II. inside, general
Operating temperature range -10 to +40 °C
Note: Although this product does not contain any harmful materials, do not dispose of it with household waste, but hand it in at the collection point designated for electronic waste.