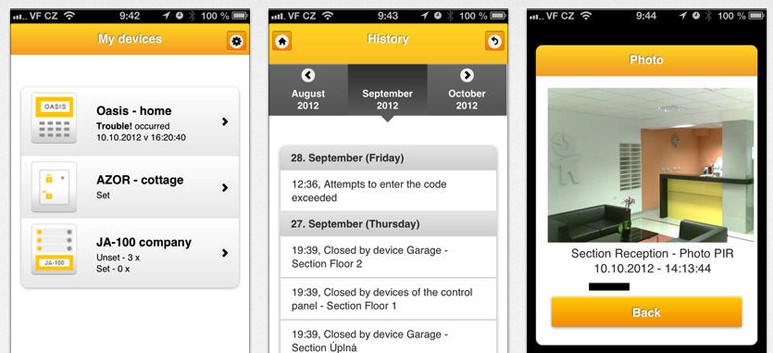 iPhone of Android App voor uw Jablotron alarmsysteem
Met uw alarmsysteem, welke door ons voor u wordt geregistreerd in de Jablotron Cloud, kunt u:
- In- en uitschakelen van het gehele systeem of geselecteerde delen
- In- en uitschakelen van programmeerbare uitgangen in uw systeem
- Monitoren en beoordelen van gebeurtenissen in uw alarmsysteem
- Stuur mededelingen naar geselecteerde personen via SMS , e-mail of als een push notificatie (alarm aan-/uitschakelen, alarmen, foto's en meer)
- Deel uw alarmsysteem met uw familieleden , vrienden etc.

Om uw alarmsysteem via de MyJablotron applicatie te bedienen, moet het systeem eerst worden geregistreerd in de Jablotron Cloud service. De registratie wordt door ons verzorgd.

Zodra de registratie is voltooid, ontvangt u uw login en wachtwoord in uw e-mail. Dit zal u toelaten om uw alarmsysteem te bedienen via de jablonet.net webpagina als ook via de mobiele MyJablotron toepassing.
 
MyJablotron werkt met de Jablotron 100, OASIS of AZOR alarmsystemen.

De App werkt alleen met de Jablotron OASIS JK-84-82Y met GSM kiezer

Download de MyJablotron app: